Are you looking for land or real estate in St. George or Washington County? Marval Realty Group is now offering real estate services throughout this region of Southern Utah.
Washington county is a region of southern Utah known for it's red rock canyons (think Zions National Park!), and desert landscapes. It's a two hour drive form this desert oasis to Las Vegas, Nevada which makes it easy to travel into and out of at any time of year. St. George also has it's own regional airport with direct flights to LA, Salt Lake and Phoenix.
The area is home to one of the "Big Five" National Parks in Utah, Zions National Park. Zions is a true geographical treasure with soaring red rock towers, slot canyons and the beautiful, Virgin River. Nearby just before the entrance of Zions, is the laid back, lovely little town of Springdale. Closer to St. George is Snow Canyon State Park and Red Cliffs.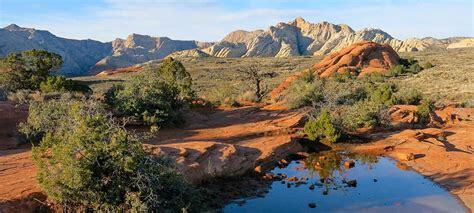 Why St. George?
St. George was a little known vacation spot for many many years and a town for retirees but in recent years, it's had a steady influx of folks from California and all across the nation. The easy pace of life, affordability, warm climate and access to nature are just a few of the reasons folks are flocking there to buy homes or investment properties.
St. George has slowly grown into a haven for people of all ages and interests looking for mild to warm weather and amenities such as golfing on one of dozens of courses, including the top-rated Entrada at Snow Canyon, and renowned destination retreats like Green Valley Spa and Resort and Red Mountain Resort and Spa. Climbers can seek out numerous intriguing sandstone destinations, including Snow Canyon State Park (see below), Pioneer Park, Green Valley Gap and Moe's Valley. Aside from all the great outdoor things to do in St. George, the dining options are plentiful as well. From the chic Zagat-rated Painted Pony to authentic Neapolitan-style pizza at Riggatti's, St. George has emerged as a top dining town in Southern Utah.
For families, the St. George Dinosaur Discovery Site at Johnson Farm and St. George Children's Museum combine with a wildlife museum, nature center, aquatic center and multiple local hikes to petroglyph sites for a complete family getaway. St. George is also home to Dixie State University. The Southwest Symphony season runs October through May. The nearby Tuacahn Amphitheater & Center for the Arts stages theatrical and musical performances. Indeed, as a basecamp to Zion National Park, St. George offers plenty of cultural amenities to help expand your itinerary in southwest Utah once you've explored Zion.
Check out some real estate listings in St George!
Curious to know more about St George real estate or are you looking for something a little different? We go above and beyond to find the real estate property to fit your taste, needs and budget. Give us a call at (801) 604-6440