Boltcutter: Unlock Your Taste Buds, Vegan Food in Downtown Salt Lake

Seriously vegan, plant-based goodness is what you'll get…once you find the Boltcutter. It's in plain view, in the strip of restaurants and bars on Gallivan Ave in downtown Salt Lake- but signage is a bit inconspicuous. Forget about calling for directions, they don't have a phone!  But the search is well worth it.  It's a hip, vegan restaurant that  serves Mexican classics, gourmet street tacos and so much more.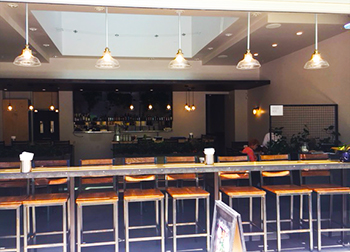 We enjoyed our lunch at the Boltcutter, the atmosphere was calming. The front glass wall slides open for full exposure to the street and sidewalk, but we still had our privacy in the roomy booths. Our server said the dinner menu includes most of the lunch items, but with quite a few additions.  The bar is fully stocked with craft beers, wine, ciders and spirits, and is open only at dinner time. Some of their 'house special' mixed drinks have fun names like Flamingo Fizz, El Duderino, Chantico and the Jesse Pinkman, of course all the classics are served too. The beverage menu for those who don't imbibe is long, with plenty of offerings, like freshly brewed, loose leaf teas, coffee, espressos, aqua frescas, fresh fruit juices, ginger drinks and just about any drink you could want.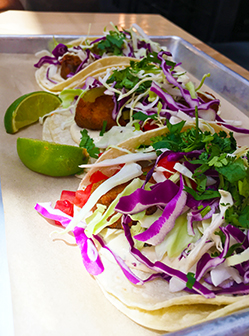 Salt Lake City has no shortage of tacoes but vegan tacos? A little harder to come by. We ordered the Baja Tacos, which consisted of beer-battered tempeh, cabbage, tomato, pickled jalapeno, cilantro, lime with tartar sauce drizzled over the top (3 for $8.00). The portions are absolutely huge and the prices are very reasonable. Also, the Nachos were spectacular! An enormous tray of house made corn tortilla chips, 'cheese' sauce, black beans, pico, pickled jalapenos, green onions, sour cream, and guacamole. We had the extra Barbacoa Jackfruit added on the top. Jackfruit reminds me of pork, the Barbacoa Jackfruit is a must, especially if you've never tried jackfruit.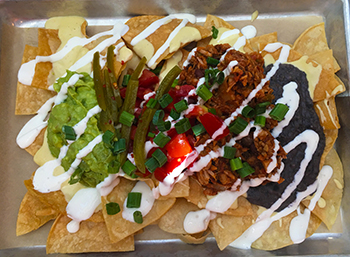 We heard rave reviews about the Buffalo Cauliflower, but it's only served at dinner, so we couldn't try it. The dish comes with little battered florets of cauliflower, served with almond cilantro chimichurri, habanero buffalo and ranch sauces. We'll definitely come back to try it at dinner in the near future when we're looking for some delicious vegan fare downtown.
We aren't vegan, but would be if we could eat food like Boltcutters serves every day! After our meal, we ped by their sister company, Monkeywrench, right next door. We had Peanut Butter Fudge Ripple and Matcha vegan ice creams. That is another story, another day. Hint: It was all delicious!
Take-out: Order 'to go' at counter; they have no phone to call in an order.
Parking: Few places in front on the street, and a parking garage across the street from the restaurant.
Prices: Very reasonable, especially for the large portions
Hours: 11am-3pm; 5:00-11:00pm
Address: 57 E. Gallivan Ave., Salt Lake City, Utah
Curious about real estate in downtown Salt Lake or any other areas along the Wasatch Front? We'll help you find the perfect home, condo or loft.
You can find our more about our MARVALOUS agents, here.